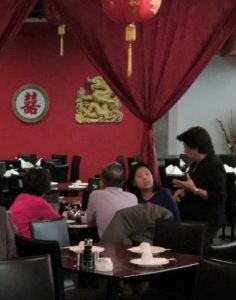 Food Economy Working Group member Janet Yu was destined to become a food entrepreneur. Janet's parents immigrated to Washington, DC from China in 1948 and settled in Montgomery County, where her mother opened a restaurant in Silver Spring. Janet grew up in her mother's restaurant kitchen, helping her make her signature almond cookies. As an adult, Janet first worked in the airline industry, but then decided to follow in her mother's footsteps and establish herself as a local restaurateur. Janet has been in the restaurant business in Montgomery County for over 20 years, and today she operates Hollywood East Café, a bustling, Cantonese/Hong Kong-style Chinese restaurant in Wheaton Mall. Janet describes Hollywood East Café's menu as traditional, but she is always experimenting with her recipes to create new signature dishes and specials for her customers.
Janet also operates Red Blossom Kitchen, a newly opened shared kitchen in Silver Spring designed to provide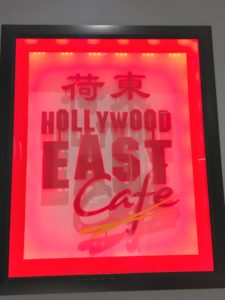 commercial kitchen space to budding food entrepreneurs. Janet's primary motivation for opening Red Blossom Kitchen was to launch a cookie business called Mama Goon's cookies. Janet wanted to secure a space to bake these cookies, but she also needed to share the kitchen with other chefs to make it economically viable. In addition, Janet has met many individuals looking to start food businesses over the years who have informally asked her for advice and guidance in their culinary ventures. Through these discussions, Janet realized that there is local demand for a kitchen incubator that could provide budding entrepreneurs with commercial kitchen space to create their products while also learning about food safety, entrepreneurship, permitting and more.
Janet opened Red Blossom Kitchen hoping to fill this demand, but she quickly discovered that she was unable to make a true kitchen incubator model economically viable right away. When Janet first opened her shared kitchen, she rented out space to a few different food entrepreneurs and she offered a food safety class. However she found that each food entrepreneur used the space for just a few hours at a time, which was not sufficiently profitable to cover Janet's costs. Janet then received a call from a food entrepreneur who wanted to rent her kitchen full time during the day. This arrangement worked for Janet financially, as it allowed her to bake her Mama Goon's cookies in the evening and scale up her business while sufficiently offsetting the cost of her kitchen; so she agreed to rent Red Blossom Kitchen to this entrepreneur through the end of March. Ultimately, Janet hopes to create the kitchen incubator she initially envisioned, with 15 food entrepreneurs renting the space full time, where she can incorporate an educational component to help these entrepreneurs get their businesses off the ground.
In the meantime, Janet is enjoying making her Mama Goon's cookies, which are a tribute to her mother in every sense of the word. She uses the same recipe that her mother taught her many years ago in that Silver Spring restaurant kitchen, and she named the cookies after her mother (Goon was her mother's last name, Janet's maiden name). When selecting packaging for her cookies, Janet selected an image of a Chinese girl with a big open smile that reminded her of her mother's smile. Janet's mother passed away from Alzheimer's disease, and Janet's dream is to someday be able to afford to donate a portion of every Mama Goon cookie sale to Alzheimer's research. As Red Blossom Kitchen continues to evolve and grow, Janet hopes to make this dream a reality.