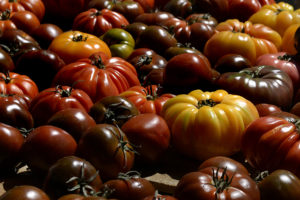 Welcome to our "Plant-Forward Cooking in Montgomery County: Sustainable and Delicious Solutions" blog series! Created by members of our Environmental Impact Working Group, this series intends to encourage greater adoption of sustainable plant-based eating by Montgomery County residents. Featured blog posts will contain recipes and cooking tips for plant-forward, vegan recipes, with a focus on hyper-local ingredients and seasonal eating options in Montgomery County. We will be working with a variety of local farms, nonprofit organizations, and other partners to generate the recipes, tips and content. We hope to build upon the existing resources that have been created to highlight the abundance of local, seasonal produce that Montgomery County farms and producers have to offer.
The recipe and text below is an excerpt from "Bread & Beauty," a cookbook written by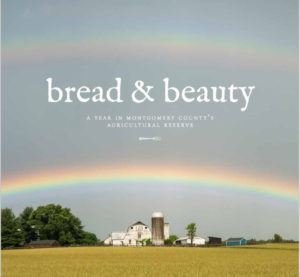 Claudia Kousoulas and Ellen Letourneau to highlight the incredible farms in the Montgomery County Agricultural Reserve. The recipe has been slightly adapted to be entirely plant-based.
Montgomery County farmers are a diverse group. Men and women, on inherited, leased, or purchased land. They grow commodity crops like corn and soybeans, and table crops like corn, apples, pumpkins, and greens. Some sell directly to consumers at markets and through Community Supported Agriculture Programs (CSAs), and some sell to aggregators. Some create products, like wine, honey, or soap. And they work farms of various sizes. Michael Protas started his table crop CSA on one acre.
He now has about 30 acres, and his One Acre Farm CSA can offer much more variety to his customers. Protas didn't grow up farming and learned by interning. Now, at his own farm, nearly every day brings a new challenge. Protas says it's the best and worst thing about farming. "You have to know everything; that's why it's neat and that's why it's hard."
But having his own land allows him to make long-term investments in fencing, irrigation, farm buildings, and even in crops, like asparagus or an apple orchard, that take a few years to mature. That's part of the Agricultural Reserve's value. Knowing that land is preserved for agricultural uses allows farmers to invest in their businesses and the community. Protas hopes that the Reserve's land preservation won't just mean bigger yards. What he cares about is growing vegetables and he pursues that end one step at a time, starting with putting seeds in the ground.
Slightly adapted from the Bread & Beauty cookbook. Serves 2 to 4.
A tian is nothing more than a layered vegetable casserole. It's a flexible dish—easy to size up and down, depending on how many people you're serving or how much produce you have. This version uses tomatoes and zucchini, but you could add potatoes, summer squash, pesto, or eggplant. Some versions layer in cooked rice, which makes the dish heartier, and is particularly nice with juicy vegetables.
Ingredients:
2 medium zucchini

1 medium tomato

Olive oil

Breadcrumbs

Salt and freshly ground pepper

Dried or fresh herbs to taste
Method:
Cut the zucchini and tomato into roughly 1⁄4-inch thick slices.

Drizzle olive oil into a small casserole and make one layer of zucchini. Drizzle that layer with olive oil, sprinkle on breadcrumbs, salt, pepper, and herbs.

Continue with layers of tomatoes and the rest of the zucchini, finishing with a sprinkle of breadcrumbs and a drizzle of oil.

Bake at 450°F for 15 to 20 minutes, until the vegetables are softened and the top is browned.
Photos provided courtesy of George Kousoulas.