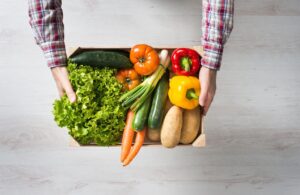 Since early 2019, the Food Council has been facilitating and supporting a quarterly meeting of a Food Security Community Advisory Board (FSCAB), in which members are invited to share their experiences of food insecurity and their thoughts and perspectives on the County's Food Security Plan, in addition to learning community engagement and advocacy skills which will be used to develop policies and action items that will guide the implementation of the Plan's recommendations by the Food Council and its partners. In the midst of the COVID-19 outbreak, we convened FSCAB members for a virtual meeting to understand the challenges that they and other members of their communities are facing to access food, as well as the ways that the Food Council and our partners can support their role as community food resource ambassadors.
Among the food access barriers that residents reported was the inability to use SNAP or other food assistance benefits for online, delivery, or pick-up grocery orders. This requires many SNAP recipients to go to the grocery store, potentially posing a health risk to themselves and to others. The Food Council is advocating for the State and Federal government to coordinate a system that would allow for SNAP to be accepted online, or in accordance with social distancing restrictions, by more retailers.
Even those that do not rely on SNAP benefits have found it challenging to get enough food to feed their families, as online ordering platforms are backed up, stores may not deliver to certain zip codes, and costs are increasing while income may be decreasing or disappearing altogether. Aside from food, Montgomery County residents are also reporting difficulties getting items like child and adult diapers, feminine hygiene products, and other necessities.
Our local food assistance providers have been working night and day to address the growing food assistance needs in our County; some providers are reporting up to 500% increases in demand for products and services. Members of our FSCAB shared that the increased minimum and maximum SNAP benefits have been a significant source of support throughout this situation, as well as being able to receive food deliveries and assistance from partners like Manna Food Center. Community members are relying on one another more than ever before, and the interconnectedness of our food assistance organizations has been shown to be essential in our County's response efforts.
Wondering what you can do to help?