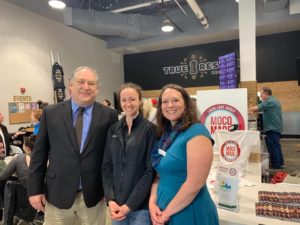 Throughout the summer of 2019, the Food Council will be hosting a series of MoCo Made Happy Hours in partnership with local breweries. These events will bring together community members, partner organizations, local food and beverage businesses, and County leaders to support MoCo Made and celebrate our amazing local food and beverage sector.
Montgomery County is home to more than a million residents, thousands of businesses, hundreds of farms, and roughly a dozen breweries. These breweries offer a space for residents to try new things, to unwind, and to enjoy a cold glass of beer. Like beer, people also love food. What better way to bring together community members than in support of local brews and good eats?!
Our MoCo Made Happy Hour series was born out of this idea, and our first Happy Hour was held on May 9th at True Respite Brewing Co in Derwood. The MoCo Made initiative was launched in November 2017 in partnership with the Montgomery County Economic Development Corporation to increase the visibility of our thriving local food and beverage sector. True Respite has been a fantastic partner in our MoCo Made initiative, even incorporating the MoCo Made logo onto their beer can labels in 2018. We invited three MoCo Made food businesses to join us at the event: Caulfield Provisions Company, Poppy's Green Tomato Salsa, and Tsiona Foods.  Each of these businesses have been active participants in the MoCo Made program since joining, and we were excited to showcase their delicious products to our Happy Hour attendees.
With True Respite providing the drinks, and a diverse spread of tasty snacks for sampling, we kicked off our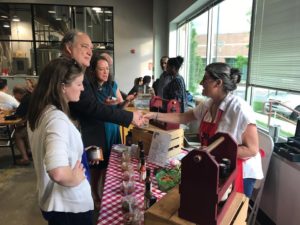 MoCo Made Happy Hour series with a bang! More than 50 Food Council and Board Members, staff, alumni, and community partners were in attendance, including our County Executive Marc Elrich, 4 County Council legislative aides, the County's Small Business Navigator, and representatives from the City of Gaithersburg, MCEDC, Nonprofit Village, Montgomery County Coalition for the Homeless, One Montgomery Green, 7 MoCo Made Businesses, the Compost Crew, Zero Waste Enterprises, and UMD Extension. 
True Respite sold hundreds of beers during the two hour event, and each of the three food businesses had successful sales as well. We are incredibly grateful to True Respite for donating 10% of the profits from beer sales during the event to the Food Council in support of the MoCo Made initiative!
Our next MoCo Made Happy Hour will be at Denizens Brewing Co in Silver Spring on Monday, July 15th, from 4-6pm. The Red Bandana Bakery, Cheryl's Kitchen, Mayorga Organics, and Shafa Blends will all be selling their products at the event. We hope to see you there!